Drake Bell Pokes Fun at Justin Bieber Again on Twitter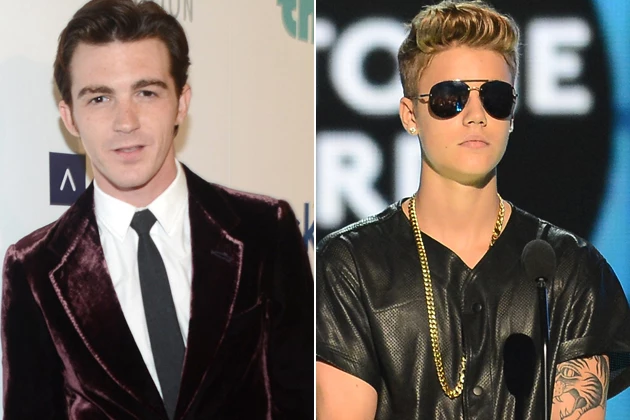 It's a well known fact that Drake Bell is not a big fan of Justin Bieber. Now, after Justin Bieber's infamous wizz-bucket incident, the former Nickelodeon star is taking more shots at the pop star.
He tweeted:
Leave @justinbieber alone! He is just like the rest of us! His "personal dresser" puts his pants on one leg at a time too!!

— Drake Bell (@DrakeBell) July 11, 2013
Obviously, Beliebers were incensed that anyone would criticize Justin's behavior, no matter how vile. Some replies (we had to search to find some without curses) included:
@gr4sshopp3r @DrakeBell @justinbieber WHY ARE YOU SO JEALOUS OF HIM. IT'S NOT HIS FAULT HE'S PERFECT AND YOUR JUST A DISAPONTMENT TO MANKIND

— Emily Bieber (@emilydownes13) July 12, 2013
@DrakeBell I wanna chop up ur legs & feed them 2 ur family as u watch. Then feed u 2 sharks & record it 4 ur parents so they know how u died

— Kidrauhl's Laugh (: (@MochaLattee_7) July 12, 2013
We'd have to say, if you want to take pot shots at Justin Bieber, go for it. Lord knows everyone else does. But maybe (just maybe!) doing so on Twitter isn't the wisest medium to insult the Biebs. Keep in mind he has 41 million Beliebers at his disposal, many of whom already hate Drake Bell with a deep and burning passion. Do you threaten to chop off someone's legs and feed them to sharks if you only mildly dislike someone? No.
At this point, we have reason to believe Drake Bell is doing this to get a rise out of Beliebers, simply because it's incredibly easy. Our word of advice to Justin's rabid fan base — take the high road, we beg you.

Source:
Drake Bell Pokes Fun at Justin Bieber Again on Twitter