Did Jennifer Lawrence Fake Her 2014 Oscar Fall?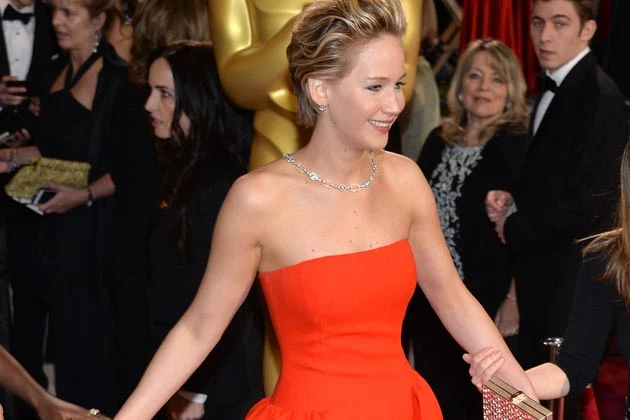 It's already a given that we have "fallen" in love with Jennifer Lawrence. But how real are her falls? You know, the ones where her feet get tangled and she eats it, which happened at last night's Oscars.
We're madly in love with J. Law's neuroticism, her Dior-dictated style, her beauty, her talent and her relatability. All of these things helped her secure her status as America's Girl Crush. But not everyone is enamored by her or crushing even harder because she falls on red carpets and while accepting awards and then gets up and laughs at herself with the requisite amount of grace.
In fact, there were plenty of people in the Twitterverse who were suspicious as to the authenticity of her tumble.
At the 2013 Oscars, J. Law tripped while headed up the stairs to accept her Best Actress Oscar. This year, she took a header on her way to the event, grabbing the back of the neck of one of her handlers as she stumbled. She then got a hand from a cop.
She apparently tripped over an orange traffic cone and after she recovered, she was seen laughing hysterically at her gaffe. Oscar host Ellen DeGeneres even worked a joke about J. Law's foot foibles into her routine. The dissenters –those who don't think "OMG! She's just like us, since she falls!"—took to Twitter to call her trip a cheap PR ploy for herself and Dior.
While these cases are compelling — including the Team Lupita tweeters, who pointed out that she didn't fall despite wearing a full, flowy gown when she took the stage to accept her Best Supporting Actress Oscar — we're not sold on J. Law staging her falls.
Falling is embarrassing. And it can lead to injury. Falling while wearing expensive gowns is even worse. And fake falls look fake. Her falls appear quite real.
But it's not about how you fall. It's how you get up.
Below are tweets crushing on J. Law's fall, as well as those that call bull you-know-what on her.
only jennifer lawrence can fall over on the red carpet and it not be awkward and embarrassing

— Teesh☯ (@TeeshaHenry_) March 3, 2014
BREAKING; #NFL confirms Jennifer Lawrence's fall on Oscars red carpet was not reviewable.

— Gene Collier (@genecollier) March 3, 2014
Whenever Jennifer Lawrence is on an awards show and she doesn't fall down I feel a little cheated.

— Jon Acuff (@JonAcuff) March 3, 2014
Jennifer Lawrence's fall at the #Oscars was FAKE! #Publicity for her and #Dior lmao what celebs do for money and tabloids…

— Martín Benavides (@MartinBenavids) March 3, 2014
Jennifer Lawrence. I love you. But the jig is up Do u have restless leg syndrome? Do u have a fake leg? You CANT fall this much & be famous

— ellyn marsh (@ellynmarsh) March 3, 2014
"@GlobalGrind: Did you miss Jennifer Lawrence's graceful fall…#Oscars red carpet" we were too busy STARING at LUPITA to notice…sorry!!

— POWER MABULA (@IamNchaKALIH) March 3, 2014
I am sad it wasn't Jennifer Lawrence. Not because Lupita didn't deserve it. I just wanted to see her fall again

— Bradly Ford (@BrewCrewBlue) March 3, 2014

Source:
Did Jennifer Lawrence Fake Her 2014 Oscar Fall?