Bruno Mars Invites Red Hot Chili Peppers to Perform With Him at Super Bowl Halftime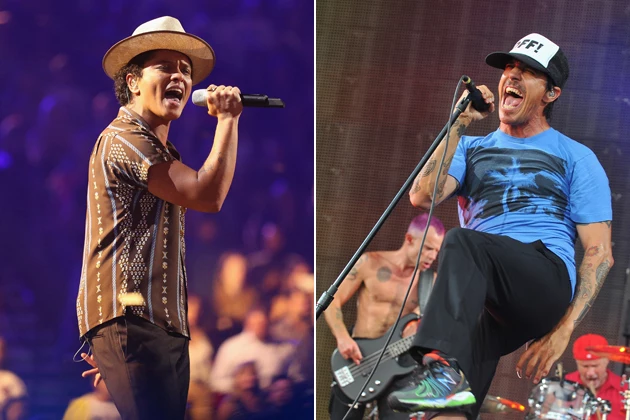 Bruno Mars is going to get hot in the freezing cold February Super Bowl — and he's going to have some help. The singer personally enlisted the Red Hot Chili Peppers to join him for the halftime show!
The Los Angeles Times reports that Mars will invite the band onstage during his halftime performance. A formal announcement was made during the New Orleans Saints and the Seattle Seahawks in the NFC playoffs today (Jan. 11).
It's unclear whether the Red Hot Chili Peppers will perform alongside or replace Mars' usual backing band, the Smeezingtons. It's also unknown whether they will join forces with Mars for the entire performance or just make a brief appearance for a song or two.
Perhaps having some Californian Rock n' Roll Hall of Famers with him will ease Mars' stage fright — and fear of the cold. "Everyone's putting the fear of God in me like there's going to be a blizzard," Mars said. "I'm going to wear a beekeeper suit, I don't know! I'm not going to know until I get there … I'm not trying to hype myself up too much. I know it's going to be cold and I just got to face it."
Next: Watch Bruno Mars Cover Janet Jackson! Source:
Bruno Mars Invites Red Hot Chili Peppers to Perform With Him at Super Bowl Halftime