Austin Mahone + Ariana Grande Get Hilarious on 'American Idol' [PHOTOS + VIDEOS]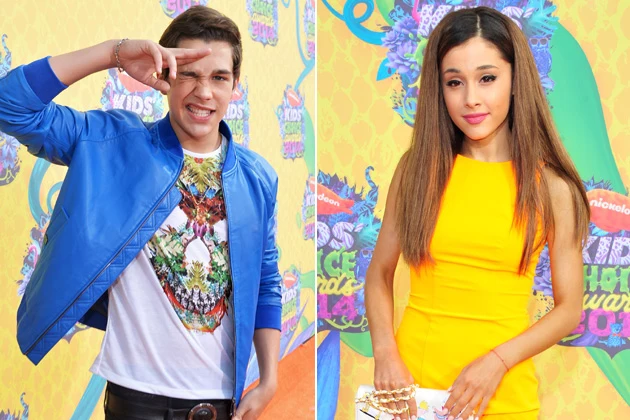 Mahomies and Arianators who watched last night's 'American Idol' were treated with appearances by Austin Mahone and Ariana Grande. Mahone took a selfie with host Ryan Seacrest, while Grande surprised a contestant who has a crush on her.
Mahone stopped by to promote his album 'The Secret,' which drops on May 27. Backstage, Seacrest tweeted a selfie with Mahone and then later posed with the 18-year-old singer in another shot.
keep watching… #AustinOnIdol pic.twitter.com/ueJiI8veDw

— Ryan Seacrest (@RyanSeacrest) May 1, 2014
#idolselfie w/ @austinmahone pic.twitter.com/3F7nRdiZZU

— Ryan Seacrest (@RyanSeacrest) May 1, 2014
Meanwhile, contestant Sam Woolf admitted that Ariana Grande was his celebrity crush. Well, as luck would have it for Sam, Ariana later surprised Sam by showing up right before his performance.
Yup, this happened. @ArianaGrande #ArianaOnIdol http://t.co/8gqPI1ZKwS

— American Idol (@AmericanIdol) May 1, 2014
She later appeared backstage with Seacrest and former 'Idol' judge Randy Jackson where, in a moment of awkwardness and hilarity, she went for a fist bump with Randy and was left hanging!
Subscribe to WBZN Old Town Maine on
Grande appeared to be in good spirits about the whole thing, later tweeting:
how @yo_randyjackson made me feel today https://t.co/CyvNt29niq

— Ariana Grande (@ArianaGrande) May 1, 2014
C'mon Randy, never leave Ariana hanging like that again!

Source:
Austin Mahone + Ariana Grande Get Hilarious on 'American Idol' [PHOTOS + VIDEOS]